| | | | |
| --- | --- | --- | --- |
| Super Easy - Pro Old Skool Flames | | | |
Written by Tony D.
Sunday, 15 March 2009 02:35
Thanks to Evil Smirk at www.TheAirbrushForum.com for sharing a killer technique he learned from one of AirbrushTricks' resident pros, Primo.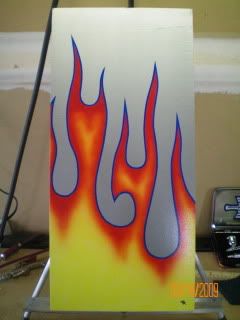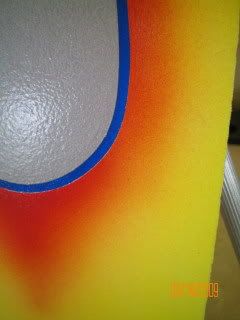 Primo from PrimoCustoms.com has been taking the industry by storm with his new Video Blog :
 Click read more below to see more pics. Or you can check out the original article here.

I have always really liked the look of old school classic flames, especially when done just ride on an old rebuilt hot rod. After watching Primo's clips on BlogTV, I decided to go his route, with a change or two, and see what I could do. I had some left over aspen plywood, from the Boa Enclosure Shelf Project, so that will now be my panel.

Pic 1- After sanding, priming, sanding, priming, sanding, and base coating with some Gloss White Rustoleum Rattle Can I had laying around.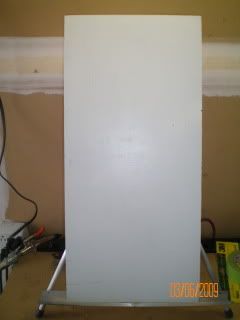 Pic 2- I can't pinstripe at all...even worse than my incredibly meager and baseline airbrushing skills, so I decided to go a different route. Let's lay some Createx Opaque Blue down first. Sketched a vague shape I'd like to make my flames then just sprayed the outline on making sure to keep it wide enough to use the fine line tape. This is either going to work and be awesome, or blow up in my face and serve as yet another 'lesson learned'.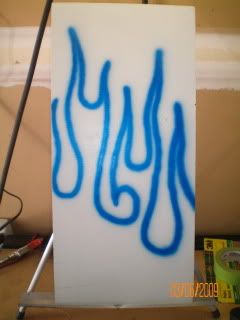 Pic 3- 1/8" Fine Line used to layout the details of the flames. This is my first time using Fine Line. I hope I can get it down just right. Will also serve to keep the desired Blue hidden from the external and internal work. Lot of masking in the steps to come. Perhaps I should just suck it up and learn the fine art of pinstriping.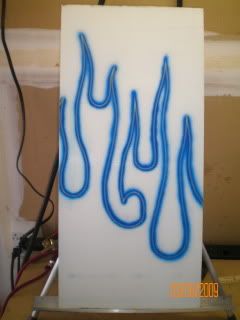 Pic 4- Internal masked. Time to put down some Krylon Hammered Metallic Silver that I had left over from another project. If the hammered effect still works, should make a nice back drop for the flames.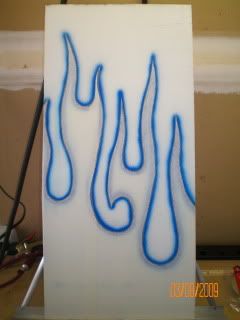 Pic 5- Internal mask removed. I like it.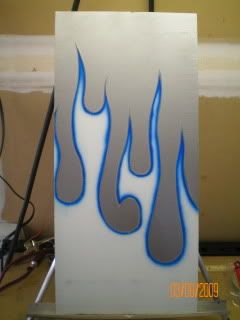 Pic 6- External masked. Time to start working on the internal flame colors. What isn't shown is the step where I sprayed the White base down again real quick to dull out the residual Blue.



Pic 7- Createx Transparent Yellow to layout the flames.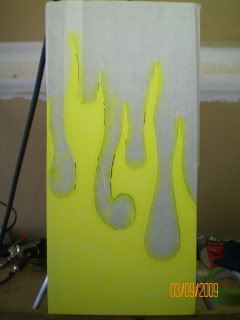 Pic 8- Createx Opaque Red sprayed for the hotter spots of the flames.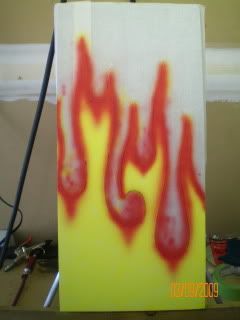 Pic 9- Createx Transparent Red and Transparent Yellow mixed to get an orange that I liked to merge the Opaque Red and Opaque yellow together.



Pic 10- Thought I was done. Some bleed under issues and peel. On to fix thsoe.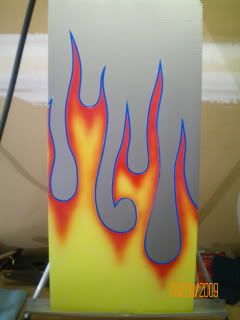 Pic 11- Time to repair the peel up issues connected with the masking attempts for the first repair attempt. Thanks to a quick conversation with Primo for giving me the technique to try. Couple coats of clear first, let dry, scuff, mask, and spray.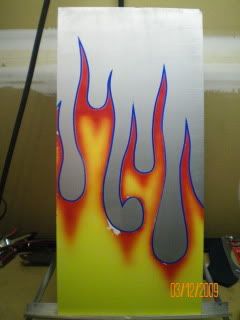 Pic 12- Time to repair the bleed under from the initial tape attempt.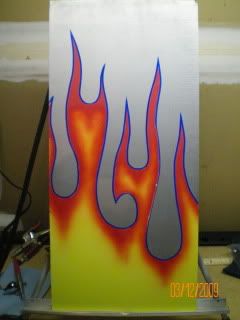 Pic 13- Repairs done and a few coats clear applied already.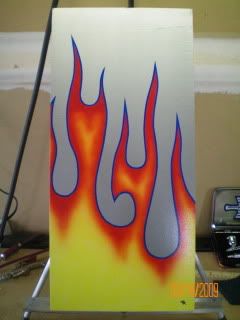 Pic 14- Close up showing gradient. Perhaps should've been more subtle. The transition from red to yellow seems to abrupt to me.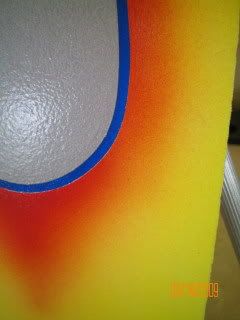 I think the fade looked a lot better when the initial mask was removed. But I wasn't careful enough with the repairs and that led to a more drastic and quick fade. All because I was getting excited and didn't catch myself. Hopefully will only make that mistake a few hundred more times. Overall I like it, and what was learned was incredibly valuable. At least I know how to use fine line now. That can be some tricky stuff on tight curves.

 Check out the original article here.



Last Updated on Sunday, 15 March 2009 02:55